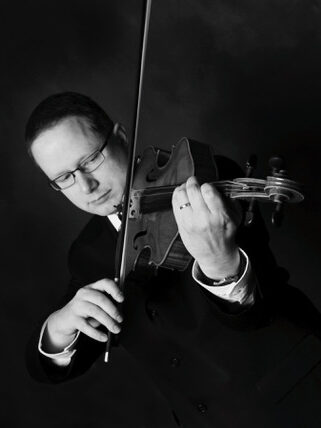 Dr. Dean O'Brien
Artistic Director
Dean O'Brien earned a Doctorate of Musical Arts Degree from the University of Texas at Austin and a Bachelor of Music and Master of Music degrees from the Eastman School of Music, with additional studies at the Peabody Conservatory and the Banff Centre. Before moving to Calgary, Dr. O'Brien taught viola and violin at Medicine Hat College and performed extensively in both Canada and the U.S. He has served as principal viola of the Montreal Chamber Orchestra, the Victoria Bach Festival and the Santa Barbara Chamber Orchestra, and has played with the Austin, San Antonio, Albany, NY and Santa Barbara Symphony Orchestras as well as the Calgary Philharmonic. Read more
He has performed with many leading chamber musicians including Anton Kuerti, Andrew Dawes, Ian Swenson and Kai Gleusteen. Dr. O'Brien is currently an Instructor at Mount Royal Conservatory and the University of Calgary where he performs with the UCalgary String Quartet. He is also Principal Viola of the Red Deer Symphony Orchestra and a member of the Kensington Sinfonia. Dr. O'Brien spends his summers in Boulder as a member of the Colorado Music Festival Orchestra.
Dr. O'Brien became Music Director Designate of the Calgary Pro Music Society in 2005 and Artistic Director in 2007. In that time, Pro Musica has grown significantly and started several new education programs while maintaining its financial stability. In 2008, Pro Musica moved its Subscription Series to the Eckhardt-Gramatté Concert Hall in the Rozsa Centre, doubled the number of its performances and attracted over 160 new subscribers. Its new education programs include annual Family Concerts (begun in 2008) and the Talmon Hertz Legacy Series (started in 2007 and named after Dr. O'Brien's predecessor), which engages CPMS visiting artist to work with Calgary area music students through masterclasses, workshops and individual instruction.
Pro Musica's latest initiative is its Young Artist Development Program, which is intended to discover, nurture and promote young Calgary musicians. Participants in the Program receive exclusive instruction from CPMS visiting artists, are presented in a fully sponsored and publicized CPMS concert, prepare and perform a series of school concerts and receive scholarship support for their individual instruction.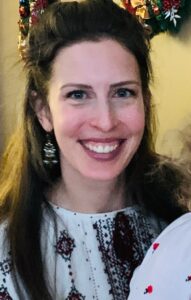 Dr. Lisa Tkalych
Community Engagement Manager
Lisa Tkalych recently joined Calgary Pro Music as Community Engagement Manager.  In this role, Lisa plans to strengthen and expand CPM's audience base by helping concert-goers to feel more connected to the society and more invested in its continued success.  She will highlight the society's education and outreach initiatives as well as the society's meaningful legacy and thoughtful artistic direction in bringing the world's leading chamber musicians to Calgary. Read more
Lisa brings to this role her unique background as a musicologist, arts administrator, and clarinetist. She holds a doctorate in musicology from Princeton University as well as degrees from Tufts University (M.A.) and Northwestern University (B.A., cum laude, Phi Beta Kappa). Lisa has given university lectures on Mozart's chamber music and nineteenth and twentieth-century ballet and assisted with courses on Mozart and the history of rock 'n roll. Her dissertation focused on Felix Mendelssohn as a Romantic conductor, and she has published program notes for the Dudley House Orchestra, Harvard University's graduate student orchestra, as well as an article for DanceTabs about the Mikhailovsky Ballet's Lincoln Center debut.
As an arts administrator, Lisa has worked with leading performing arts institutions in Princeton, Boston, New York, and Chicago. Lisa interned with the Development and Artistic Departments for the Chicago Symphony Orchestra and the Lyric Opera of Chicago and later served as a Development & Marketing Assistant with the American Friends of the Israel Philharmonic Orchestra in New York. Education was a major focus of her administrative work during graduate school. Lisa co-curated a multimedia exhibit on Arnold Schoenberg's Pierrot lunaire (1912) at the Tufts University Slater Concourse Gallery. At Princeton University Concerts, Lisa managed two projects coinciding with the series' 125th anniversary season. She guided the early stages of a book project, published as Ways of Hearing: Reflections on Music in 26 Pieces (Princeton University Press, 2021), and organized several education and outreach events during a three-visit residency at Princeton University with Maestro Gustavo Dudamel (2018-19).
Lisa was featured as a clarinet soloist with the Richmond Symphony Orchestra and the United States Air Force Band. She has performed as an orchestral clarinetist with youth orchestras in Virginia and Arizona and with summer festival orchestras including the World Youth Symphony Orchestra at Interlochen Arts Camp and the National Symphony Orchestra (NSO) Summer Music Institute. She was a recipient of the NSO Youth Fellowship. She has played in university orchestras at Northwestern, Harvard, and Princeton and in side-by-side concerts with the Phoenix and Detroit Symphony Orchestras. Lisa loves reading chamber music and has performed works by composers from the 18th to the 21st centuries.
In addition to instrumental music, Lisa has studied classical dance and ballet music history. She took classes at Princeton University with former members of the Joffrey Ballet, American Repertory Ballet, and American Ballet Theatre and danced at the Trinity Laban Conservatoire of Music and Dance Summer School in London. She has carried out dance history research at archives in New York, London, Paris, Berlin, and Stockholm. Lisa taught high school English courses at Lycée Carnot in Paris, France and studied abroad at Sciences Po Paris. She speaks French, has studied German, and is learning Ukrainian. She lives in Calgary with her husband and two daughters.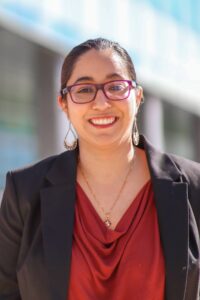 Roshni Mccartney
Operations Coordinator
Roshni McCartney joined Calgary Pro Musica as the Operations Coordinator in September 2022. In this role, she serves as the arts administrator of the society, ensuring everything gets done behind the scenes to create the world-class experiences Calgary Pro Musica audiences have come to expect.
Roshni brings an unusual background to this role. Her job history includes sales, customer service, technical and copywriting, and food and beverage management. She spent three years working as the manager of a music school and cafe, where she met an array of interesting people and fostered a strong sense of local community. Roshni holds a bachelor's degree in Business Administration and Social Innovation from Mount Royal University. Her areas of interest include diversity, equity and inclusion in the arts, arts accessibility, and social policy focusing on women's workforce participation. She has had the honour of presenting her research both locally and internationally. Read more
With a decade plus of front-of-house theatre experience, Roshni has worked in several venues across Calgary, including the Jack Singer Concert Hall, Engineered Air Theatre, Bella Concert Hall, and Southern Alberta Jubilee Auditorium. Through these roles, she has developed an understanding of arts organizations and their vital role in Calgary.
When not working with Calgary Pro Musica, Roshni enjoys traveling, musical theatre, reading, and sewing. She is a strong advocate for arts and education. She speaks Hindi in addition to English and lives in Calgary with her partner and two children.